Tidal waves are here!


You don't have to run for higher ground - get safely swept away by
the beautiful ocean of colors available in store and online today.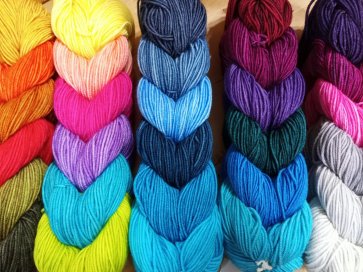 Tidal Waves has the same wonderful 80% Merino, 20% Nylon blend you love from Sneaker waves, but now in corresponding color and gradient kits.

We have ten beautiful coastal-inspired color waves to choose from!




These gradient kits are a braid of 6 corresponding or gradient colors of Coastal Yarns's super-soft fingering yarn tied together. Each color is approx. 20g. for a total of 444 yds per braid!


More Sneaker Waves!

14 brand new colors of Sneaker Waves in stock!


Coming up...


April 27th is Local Yarn Store Day!
Get ready for giveaways, free patterns, and a big day of fun!



---
Spring Hill Sweater
KAL
Mark your calendar for May 3rd!
Join Blue Sky Fibers and Coastal Yarns for the Spring Hill Sweater KAL!

Join our Spring Hill Sweater Knit-A-Long. Made with Blue Sky's naturally soft certified Organic Cotton (Worsted) yarn, this is the perfect project to transition into spring. There's no better way to start reconnecting with nature than knitting with sustainable-sourced plant fibers. This classic look is an excellent choice for first time sweater knitters and experience knitters alike. The drop-sleeves, positive-ease, and simplicity of design make this a flattering choice for a range of body types.

Blue Sky Fibers is hosting the KAL on-line now through June on their Friends of Blue Sky Fibers page on Ravelry. Get your pattern 50% off using the code "COTTON" on Ravelry courtesy of Blue Sky Fibers! We will be supporting you in the shop every Friday during knit night beginning May 3rd!

We are ordering now so let us know your color choice!


Happy Knitting!