Welcome to our first Newsletter. What a year it has been too. Seems like summer just ended and now Thanksgiving is this week. I thought that finally living full time in this wonderful coastal community life would somehow slow down. Beach time is supposed to be slower right? Nope, not one bit. I love every fast moving second of it too.

We hope to make this newsletter a regular item to keep all of our wonderful customer friends informed of the happenings in the shop. After all, not many of us live right here in Cannon Beach, not even me.

Let's get started with the activities of this coming week. We have Black Friday, Small Business Saturday and Cyber Monday! This all gets very confusing with all the adds flying around. I prefer to keep it simple so....How about One Big Sale instead?


BLACK FRIDAY - SMALL BUSINESS SATURDAY - CYBER MONDAY


We have over 10 brands with more than 30 different yarns with savings of 20% to 40% for THE BIG SALE! Click on the link above to check it out. Don't forget to shop our sale bin too for even more savings.





The Big Sale starts today, after all why wait and keep it simple. Shop early while there's lots of choices as this is an in stock only sale (no special orders). This is available In-Store and On-Line. Free shipping over $100 purchase.


Great Gift Ideas under $20


We've stocked up on our favorite notions from Coco Knits and A Needle Runs Through It for the knitters in your life, or for yourself. You need to be on your gift list too!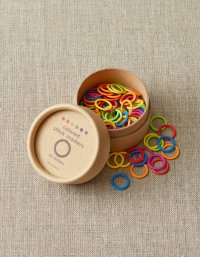 Don't know what to get that special yarn lover in your life? Let our Gift Card keep it simple for you. On Line gift cards are available in $15, $25, $50, $100 and $200. If you need a different amount, just give us a call at (503) 436-1128.

One can never have enough knitting needles and crochet hooks. Our shop favorite is Lykke Driftwoods. We carry the Interchangables long and short, Double Point Set for Socks, Single Point Set, Crochet Set and fixed circulars. Coming soon are individual Crochet Hooks and Indigo Interchangables. Call us and Pre-Order your Indigo Set today!





Don't forget the bling! We love shawl pins by Jul. Here are our favs.





We are closing early Wednesday so we can prep our Thanksgiving Dinners and be with family. Of course we will be closed Thanksgiving Day.

We'll be open Friday morning as usual at 10:00 AM until 9:00 PM. Cassie and I will be there to help you in the morning with Amy arriving early afternoon for more yarn fun.

Join us for Knit Night at 6:30PM to 9:00 PM for a special treat.

Wishing you and yours a wonderful Thanksgiving full of blessings and family joy.

Happy Thanksgiving,

Sherry and all of us at Coastal Yarns